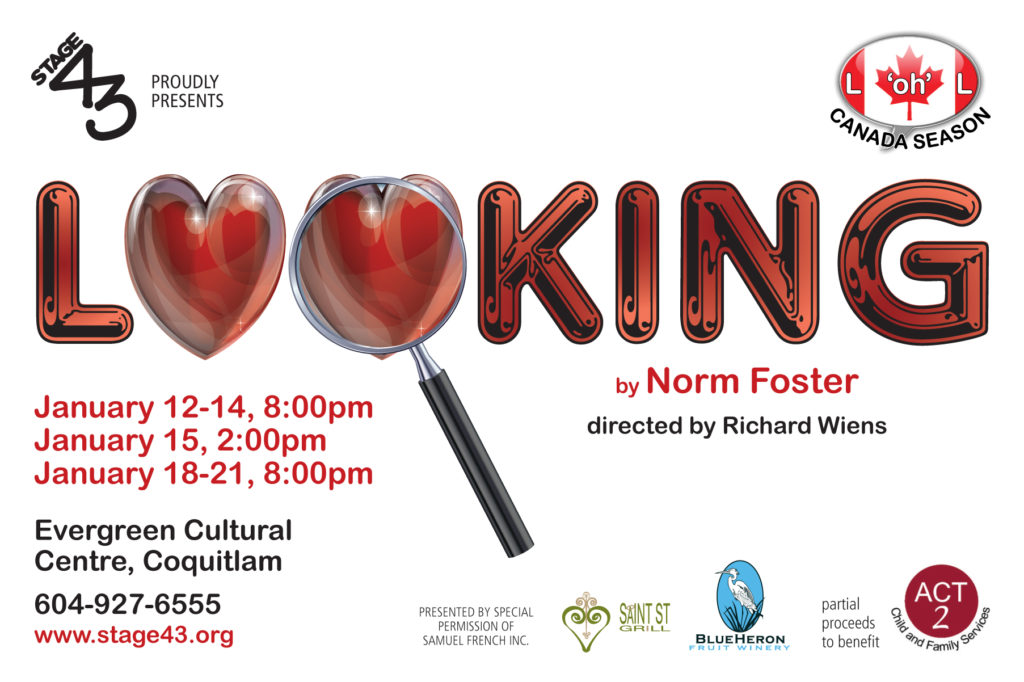 Continue the spirit of giving this season!
Tickets for Stage 43 Theatrical Society's January 2017 production of Norm Foster's Looking are on sale now, and when you purchase tickets, not only will you get the chance to see a great Canadian comedy, you will also be donating to a worthy cause!
That's right! Continuing on a not-for-profits helping not-for-profits initiative introduced earlier this year, Stage 43 is proud to announce its partnership with Act 2 Child and Family Services for this production. Partial proceeds from all tickets sold to Looking will be donated to ACT 2 – a community-based social service agency helping to turn trauma into hope.
Support this worthwhile cause by purchasing tickets to a fun evening out! In Norm Foster's Looking, directed by Richard Wiens, Val, Andy, Nina and Matt are middle-aged, single and looking for love. Val agrees to a date with Andy after answering his personal ad. Their friends, Nina and Matt, are coerced into joining them for support. Romance and contagious laughter are the result!
Looking will be performed at the Evergreen Cultural Centre – 1205 Pinetree Way, Coquitlam, right next to the Lafarge Park-Douglas station of the new sky train extension – January 12-14 (at 8pm), January 15 (at 2pm), and January 18-21 (at 8pm). Opening night (Thursday, January 12) includes a reception after the show, with refreshments from season sponsors The Saint St. Grill and Blue Heron Fruit Winery. Tickets are now on sale through their website www.stage43.org/tickets or through the Evergreen Cultural Centre's box office (604-927-6555).
Take advantage of a special offer of two-for-one tickets on Wednesday, January 18 and Thursday, January 19 (for single, adult ticket price only). To purchase, select tickets for either of these dates, then upon checkout, use coupon code "LOL". This offer can also be redeemed by visiting or calling the box office.
Have friends and family that are also theatre lovers? Purchase 10 or more tickets at one time to Looking and save $7 off the regular adult ticket price! Tickets do not have to be for the same performance, just the same production, and ticket date exchanges can be done without charge. To take advantage of the bundle ticket price, visit the Evergreen Cultural Centre Box Office in person, purchase tickets over the phone, or buy tickets online using the bundle code "LOOKBUNDLE".
Stage 43 Theatrical Society has made the Tri-Cities its home for over 30 years, providing quality, affordable entertainment to the community.
For more information on Stage 43 Theatrical Society and their upcoming productions, please visit www.stage43.org, join them on www.facebook.com/stage43, and follow them on Twitter @stage43theatre.